General Secretary of Awami League and Minister of Road Transport and Bridges Obaidul Quader said that BNP is a common platform of communal evil forces and anti-independence.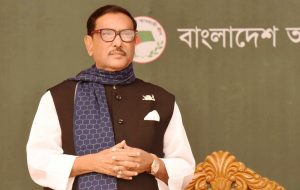 Obaidul Quader said this during a briefing at his residence on Friday. Obaidul Quader said, 'BNP did not give blood for this country; Rather, they took people's blood, exploited them, and did not give relief. Awami League's general secretary said that this country is not safe in the hands of the BNP, they are indulging in a conspiracy to put chains in the name of liberating the people of the country. Quader said, BNP has chained democracy in the past, chained the spirit of liberation war and the ideology of freedom. BNP has used the independence of the country for power. Obaidul Quader said that BNP's hands are stained with the blood of thousands of Awami League leaders and workers. BNP now talks about democracy, about the enemies of democracy and freedom or they will save the country.
Obaidul Quader said, 'Actually, BNP has come up with an agenda to destroy the country, they have entered the field with all the defeated evil forces.' The General Secretary of Awami League also said that the patriotic people are united under the leadership of Bangabandhu's daughter Sheikh Hasina. The spontaneous resistance of the people will foil all the conspiracies of the BNP and its allies.
Awami League general secretary Obaidul Quader sought the cooperation of all concerned to make the Zilla Parishad elections fair and beautiful on October 17. The bridges minister directed the party members and leaders to follow the code of conduct.