Information Minister and Awami League Joint General Secretary Hasan Mahmud said that the government has not taken any decision to shut down electricity during the day. Tawfik-e-Elahi Chowdhury, Advisor to the Prime Minister on Power, Energy, and Mineral Resources, said in an event on Sunday that the government is giving the most important to the agriculture and industrial sectors of the country. The government will do whatever it takes to protect these two sectors. For this, if necessary, he advised stopping the use of electricity during the day. When journalists asked about the energy advisor's comments at the secretariat on Monday afternoon, the information minister said, 'What Tawfiq-e-Ilahi said is his words and he alone can explain it; The government has no such decision.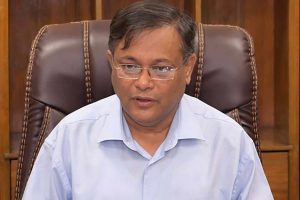 During an exchange of views with journalists, the Minister of Information and Broadcasting said about Saturday's rally of BNP in Khulna, "The day before yesterday BNP vandalized the newly built railway station in Khulna and attacked the Awami League office in Daulatpur. BNP leaders said that bus launches are closed. The bus-launch owners themselves have called a strike. There is no hand of the government or the government party here. Hasan Mahmud said, "In 2013-15, the way BNP set fire to buses and launches, burned alive workers and killed people by setting fire to standing buses, naturally the owner of the bus launch is responsible for this." And the workers were worried. That's why they called a strike. At that time, Hasan Mahmud showed journalists some news footage from 2013-15 and said, "Look, how buses, launches, and workers were burnt to death in the fire set by BNP. They have called the strike because of this apolitical fire of the BNP.
BNP Secretary General's statement, 'Awami League will not get even 10 seats if there is a fair election', Hasan Mahmud said, 'Before the 2008 elections, Begum Khaleda Zia said several times that Awami League will not get even 30 seats. In such a cruel irony of fate, in the 2008 elections, BNP first got 29 seats, less than 30. Later, after the by-elections, their number of seats increased. And Awami League formed the government by getting three-fourths of the seats. Again in 2018 BNP right-left, extreme right-extreme left Dr. By 'hiring' Kamal Hossain and getting only 5 seats, Hasan Mahmud said, "Just like Begum Zia's 30-seat speech happened in their time, I fear, Fakhrul Sahib's 10 seat speech will also happen in their time." "League is alarmed" – In response to the statement of BNP leaders, the information minister said, "They are talking a lot and our workers have said that it is far from frightening to see their rally, we are shocked."
Hasan Mahmud said BNP organized a rally of 2000 people. Now when 10-15 thousand people have seen it, it has lost a little bit while giving a speech, this is what happens. The information minister said that we are cooperating so that the BNP can hold a rally. Police have shown great patience in Khulna. They threw bricks at the police, but the police and our leaders showed patience. BNP organized the rally in a carefree way. And when BNP was in power, there were grenade attacks, bomb attacks on our rallies. Kibria Sahib, Ahsan Ullah Master's gathering was attacked and killed.
When asked about Jatiya Party Chairman and Deputy Leader of Opposition in Jatiya Sangsad GM Quader's statement against the government, Minister Hasan said, 'Actually, Jatiya Party is called "B Team" by many people, so he made some strong statements to show that they are the opposition party. Keeping it
good, I hope that the confusion inside the Jatiya Party can be resolved.