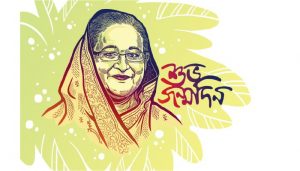 She is the prime minister of the country for a long time. She also has the honor of being the Prime Minister for three consecutive terms. Awami League, one of the oldest parties in the country, has been at the helm since 1981. She has gone through many crises and ups and downs in his life of 75 years. Seen the pinnacle of success. She is turning 76 today on Wednesday with long political life and experience of running the state for a long time. Today is his birthday. She is the Prime Minister of Bangladesh Sheikh Hasina. The great architect of independent Bangladesh, Sheikh Hasina is the eldest child of Father of the Nation Bangabandhu Sheikh Mujibur Rahman and Bangama Begum Fazilatunnessa. He was born on September 28, 1947, in Tungipara of the then Gopalganj Sub-Division near Madhumati River. Childhood was spent in a traditional rural environment, in the lap of grandparents. Sheikh Hasina's education began in a school in Tungipara. When Sheikh Mujibur Rahman was elected as a member of the Provincial Council in the 1954 elections, he and his family moved to Dhaka. After that, Sheikh Hasina spent her educational life in various educational institutions in Dhaka.
Born in a political family, Bangabandhu's career in politics began at a young age. He was active in every movement struggle against the Pakistani occupation forces. After independence, on August 15, 1975, Bangabandhu Sheikh Mujibur Rahman and his family were killed by a group of misguided soldiers. Sheikh Hasina and her younger sister Sheikh Rehana were abroad at that time.
After Bangabandhu's family was killed, Sheikh Hasina's life in exile began another struggle. In February 1981, Sheikh Hasina was elected president of the Awami League while in exile abroad. Since then she has held this position. The party leaders and workers called him 'Mrityunjai' Manabí as he repeatedly came back from death's door. After a long exile, Sheikh Hasina returned to the country on May 17, 1981. Lakhs of people ignored the rain and welcomed him at the then Kurmitola Airport. In response to the greetings of the people present, She said, 'I have come to the country to take part in the liberation struggle alongside the people of Bangladesh. I did not come to be the leader of the Awami League. As your sister, as a daughter, as an Awami League worker who believes in the ideals of Bangabandhu, I want to be by your side.
Sheikh Hasina said in a tearful voice that day, 'I see millions of familiar faces in today's public meeting. Not only my beloved father Bangabandhu, my mother and brothers, and many other loved ones. Brother Russell will never come back, never call you. After losing everything, today you are my own.
Sheikh Hasina led various democratic movements including the anti-dictatorship movement while in charge of Awami League president. After 21 years, Awami League came to power again in 1996 under his leadership. Bangabandhu is now serving as the country's prime minister for the fourth term. She has been in charge as the Prime Minister for three consecutive terms since 2009. No one else has such a record in the history of the country.
Prime Minister Sheikh Hasina is now in the United States to attend the 77th session of the United Nations General Assembly. In her absence, Awami League, its affiliates, and fraternal organizations across the country including Dhaka have undertaken various programs.
Various programs including discussions, prayers;
On the occasion of the party president's birthday, Awami League has organized a discussion meeting at Bangabandhu International Conference Center today at 3 o'clock on Wednesday. Dua and Milad Mahfil will be held in all mosques of the country, including Baitul Mukarram National Mosque, except Johar. Buddhist community at Dharmarajik Buddh Mahavihara (Basabo, Sabujbagh) at 10 am, Christian Association Bangladesh (CAB) at Mirpur Baptist Church (3/7/A Senpara, Parvata, Mirpur-10) at 9 am, and Hindu community at Dhakeshwari Temple at 11:30 am. . Leaders of Awami League will be present in these programs. Collaborating organizations across the country will hold various programs including discussion meetings, joy processions, doa mahfils, special prayers, and photo exhibitions.
On the occasion of Sheikh Hasina's birthday, the party's relief and social welfare sub-committee held a discussion meeting at the Bangabandhu Avenue central office on Tuesday.