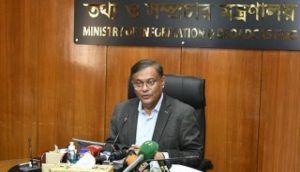 Awami League Joint General Secretary and Information and Broadcasting Minister Hasan Mahmud said that communal evil should be stopped to strengthen the foundation of the non-communal spirit of Bangladesh.
The information minister made this call in the speech of the chief guest at the Shubo Mahalya ceremony, the beginning of autumn Durga Puja at the capital's Banani Puja Mandap on Sunday. The event organized by Gulshan-Banani Public Puja Foundation was inaugurated by the guests and organizers by lighting the mangal lamp at 6:02 am. The president of the foundation Panna Lal Dutta, general secretary Prana Krishna Ghosh, Shilpi Lal Dutta and others spoke at the event moderated by artist Manash Sengupta. This information was informed in a press release of the Ministry of Information.
Thanking the organizers for organizing the puja in Banani uninterruptedly, Hasan Mahmud said, 'The main message of Hinduism, Buddhism, Christianity, Islam is the establishment of brotherhood and harmony among people and if the welfare of people is kept in consciousness and practiced, the country, society and the world would be very peaceful. wouldn't have the evil forces that want to spread communalism in our country, sometimes want to stand up, want to beat the evil forces must be suppressed together. Only then we will be able to strengthen the foundation of the state system on the basis of which the state was created.
The information minister said, "Our country has been created by the combined struggle and blood flow of Hindus, Muslims, Buddhists and Christians." We Hindus, Muslims, Buddhists, Christians all fought together to create a non-communal state out of the communal state system. But it is a sad truth that after the father of the nation Bangabandhu Sheikh Mujibur Rahman was killed in 1975 under the leadership of whom the country was founded, the spirit on which the country was founded has been hurt and an attempt has been made to destroy it. Attempts have been made to make the state communal again.
Pointing out that Prime Minister Sheikh Hasina's government is working to restore the basic spirit of the state and bring it back to its original spirit, the broadcasting minister said, 'Those who wanted to transform this state into a communal state, are still spreading communal strife, spreading communal venom and their Our government has always taken strict action against. There is a political party in the country, which does politics on communalism. We all have to be careful about them.
Minister Hasan Mahmud said, 'Please note, the number of worship halls in our country is increasing every year. This is because people have enthusiasm, people have capacity and at the same time the government is on your side. Due to these three reasons, the number of puja Mandap is increasing every year. Last year, attempts were made to disrupt the puja at various places. However, the number of puja Mandap has increased this year compared to last year. It is very encouraging.'
Source: Prothom Alo.