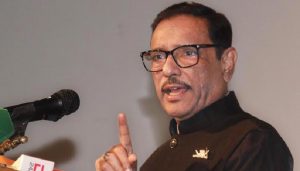 Awami League general secretary Obaidul Quader said Hatuvanga BNP has now relied on sticks. They are inciting the Awami League and the police by tying the Bangladeshi flag on a stick in the rally. But this stick game will not work. The highway was not leased to anyone. The game will be played, the street will be dealt with.
He said these things at the discussion meeting of the Awami League on the occasion of the 76th birthday of Awami League President Prime Minister Sheikh Hasina. The discussion meeting started today at 3 pm at the Bangabandhu International Conference Center in the capital under the title 'Come clean in the fire bath, you earth girl, your victory will be won. Obaidul Quader said in the opening speech in the discussion meeting that BNP has again started a mess movement in the name of the 22-party alliance. They attacked Awami League workers in Hazaribagh. BNP is deliberately inciting Awami League and police to get involved in the conflict. On the occasion of Prime Minister Sheikh Hasina's birthday, Obaidul Quader asked countrymen to pray for her and said, "Have faith in Bangabandhu's daughter." He will honor your trust. Obaidul Quader criticized the news published in the media about the attack on the BNP rally. He said, looking at television and newspapers, it seems that Bangladesh BNP has taken over.
Obaidul Quader said that Sheikh Hasina has made digital Bangladesh with Sajib Wazed Joy. His goal this time is to make Bangladesh smart. He will move ahead no matter what obstacles come in the next election.
Awami League presidium member Matia Chowdhury presided. Awami League presidium members Shahjahan Khan, Mofazzal Hossain Chowdhury Maya, Jahangir Kabir Nanak, Agriculture Minister Abdur Razzak, Information Minister Hasan Mahmud, Education Minister Dipu Moni, AFM Bahauddin Nashim, and others were present in the meeting.