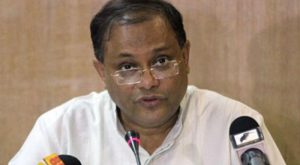 Information and Broadcasting Minister Hasan Mahmud said, Awami League is always on the side of the distressed people, but BNP is not. Rather, BNP mocks people's deaths and disasters. Hashan Mahmud said this at the relief distribution ceremony at Madea Bamanhat Union Parishad auditorium of Boda Upazila of Panchagarh on Sunday afternoon. This relief and financial assistance were distributed by Prime Minister Sheikh Hasina to the families of the victims and victims of a boat capsizing in the Karatoa river on September 25. This information was informed in a press release from the Ministry of Information. Hasan Mahmud said, 'Today we have come to you as a team. But there is an opposition party in the country, the Rajpath opposition party. Mirza Fakhrul Islam Alamgir's home is in North Bengal. In the neighboring district of Thakurgaon, it takes one to one and a half hours to come and go. But he hasn't come yet. I know he will come after we leave. Because Awami League has come, BNP has to come. He did not come and sat in Dhaka and said various things. Information Minister said, Awami League does not just talk, it stands by the people and stands by them. That is why we have come, our party leaders have jumped in. The leaders and workers of BNP are staying away from here, they have not been seen.'
Hashan Mahmud said that after hearing the news of the boat sinking, Prime Minister Sheikh Hasina called the Minister of Railways, Minister of Relief, and Minister of Religion and gave instructions to the party. Immediately after receiving the call from the Prime Minister, everyone rushed. The information minister said that the affected families of each person killed have been given Tk 20,000 from the district administration, Tk. 25,000 from the Ministry of Religion, and Tk. 50,000 from the Ministry of Disaster and Relief. Railway Minister has given Rs 5,000 to each family and Red Crescent Society has given Rs 5,000 each. One lakh and five thousand rupees have been given to each family of the deceased and affected. Apart from this, on behalf of the Awami League president, the central committee of the party has given Tk 50,000 to the families of each victim and victim, he said.
The information minister prayed to God for the peace of the departed souls of those who died in the boat sinking and to overcome the grief of their bereaved families. He said, "After this incident, the local leaders and workers of our party at all levels jumped into the rescue work. The police force, Upazila administration, district administration, fire brigade, and divers have jumped. The three who have not been found yet, are being searched for. Those who participated in this rescue, especially the divers. I thank everyone. Awami League's relief and social welfare secretary Sujit Roy Nandi spoke at the event under the chairmanship of railway minister and Panchagarh district Awami League president Md. Nurul Islam Sujan. Local leaders include Boda Upazila Awami League President Wahiduzzaman Sooja, General Secretary Farooq Alam; Madea Union Awami League President Abu Anshar Rezaul Karim Shamim, General Secretary Sushil Burman; Sri Janmashtami Udyapan Parishad Central Committee President Sukumar Chowdhury and others were present.