Awami League general secretary Obaidul Quader said that the government will not fall on the words of BNP leaders. Road Transport and Bridges Minister Obaidul Quader said this in a statement today.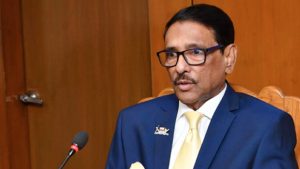 Obaidul Quader responded to BNP Secretary General Mirza Fakhrul Islam Alamgir's statement that this government will fall into agitation. He said that for more than a century, the Secretary General of BNP has been saying this to cheer up the disappointed leaders and workers of his party. The Road Transport Minister said, 'BNP leaders always wish for the downfall of the government. But just as a cow does not die with the prayers of a vulture, the government will not fall with the prayers of the BNP. They are trying to do politics by capitalizing on people's suffering. Obaidul Quader said that the crisis caused by the Russia-Ukraine war is global. All the countries of the world are facing this crisis. Looking for direction on how to deal with the crisis if it deepens in the future.
The General Secretary of Awami League asked the general secretary of BNP and said, in the context of this crisis, will the prime ministers of all the countries of the world resign? Obaidul Quader said, 'Bangladesh is not an isolated island. Although this global crisis was not caused by us, its impact has been on Bangladesh. The Road Transport Minister said that the World Bank fears a global recession from next year. In this context, Bangabandhu's daughter Sheikh Hasina is far-sighted and asked to take precautionary measures in advance. Talked about more food production. The bridge minister said that the illusory dream of government resignation which BNP leaders are showing their workers will never happen in reality. As long as the people want, Sheikh Hasina's government will remain in power. The General Secretary of Awami League responded to this comment of the BNP Secretary General when 29 government institutions were declared important information infrastructure. He said that Mirza Fakhrul may not know that important information infrastructures have been identified in different countries of the world including India, and the UK.