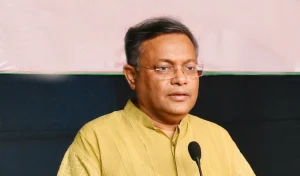 Information Minister and Awami League Joint General Secretary Hasan Mahmud has claimed that since Bangladesh was re-elected as a member of the United Nations Human Rights Council by a large vote, various propaganda by BNP and anti-nationalists have been proven false. This information was informed in a notification of the Ministry of Information. On Tuesday, Bangladesh was elected as a member of the Human Rights Council for a three-year term from 2023 to 2025 for the fifth time through voting at the United Nations General Assembly. Bangladesh got 160 out of 189 votes. Bangladesh was previously elected as a member of this 47-member council in 2006, 2009, 2014, and 2018. The Information Minister said, 'Bangladesh has been re-elected as a member of the United Nations Human Rights Council after receiving the maximum 160 votes in the Asia Pacific region. As you know, BNP and some individuals, and certain organizations are continuously spreading false propaganda that human rights are being violated in Bangladesh. They were trying to create confusion by sending wrong information to different countries of the world and in that context, Bangladesh was elected as a member of the United Nations Human Rights Council by getting the highest votes. This proves that the propaganda they have been doing about the human rights situation in Bangladesh, the way they have tried to divide the foreigners, is futile and ineffective; On the contrary, it has been proved that Prime Minister Sheikh Hasina's government is on the right track.
The information minister said, "Actually, the highest human rights were violated in Bangladesh when Ziaur Rahman killed thousands of army officers and soldiers without trial while in power. There have also been cases where the execution was carried out earlier, the trial judge was later and these are documented, i.e. there is evidence of them. Thousands of leaders and workers of the Bangladesh Awami League were tortured and killed during Zia's tenure. In response to a question about the contemporary politics of BNP, Hasan Mahmud said, "If BNP tries to create chaos in the name of the sectional assembly, then the government will take appropriate measures for the security of the people and if the people If resistance builds, our team will be with you. And if any of the five parliamentarians of the BNP resigns, there will be a by-election. In response to the BNP's criticism of the electricity supply, the minister said, "BNP did not provide electricity but only provided poles." And when we formed the government in 2009, only 40 percent of the people in the country had access to electricity, not all the time, electricity came occasionally. Today, hundreds of people are coming under electricity facilities. So when BNP says such things, people laugh.
After the exchange of views, Awami League joint general secretary Hasan Mahmud gave a virtual speech at the conference of Dinajpur Municipal and Sadar Upazila Awami League.