The death toll has risen to 33 in the boat capsizing in the Karatoa river in Panchagarh's Boda Upazila. Relatives claim that 58 people are still missing. Three diving teams from Rangpur, Rajshahi, and Kurigram fire services are continuing the rescue work.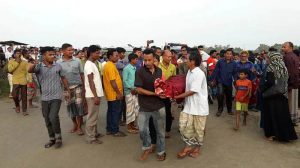 Panchagarh Additional District Magistrate (ADM) and Head of Investigation Committee Dipankar Roy confirmed this information from the information center opened at Mariya Bamanhat Union Parishad of Upazila at around 10:30 am today.
Earlier, the Panchagarh district administration had confirmed the death of 24 people by 11 pm on Sunday. Later one body was recovered late at night and eight bodies were recovered from early morning till noon today. Among these bodies, the body of Brajendra Nath (55) was recovered late at night. The bodies recovered since dawn today are Kavita Rani (50), Suchitra Rani (22), Deep Babu (10), Jharna Bala (50), Bejeybala (50) and Deepshikha Rani (10), Jagadish Chandra (60) and Subrata ( 2) of a child named It is said that these bodies were recovered from Marea Aulia Ghat, Debiganj Karatoa Bridge and Khansama Bridge area of ​​Dinajpur. The incident of boat capsizing took place in the Karatoa river in the Auliar Ghat area of ​​Boda Upazila of Panchagarh at the Auliar Ghat area yesterday Sunday. So far, 16 women, 11 children, and 6 men have been killed. Eight of them died after being taken to the Upazila Health Complex. The bodies of the rest were recovered from the river.
Boda Upazila Executive Officer (UNO) concerning eyewitnesses. Soleman Ali told Prothom Alo, on the occasion of Autumn Durgotsava Mahalaya, hundreds of people were going towards Badeswari temple in a boat powered by a shallow engine. After some distance from the wharf, the boat started rocking. At this time, the sailor tried to bring the boat back to the pier. At one point the boat sinks. Many of the boat's passengers swam ashore. On their screams, local people joined the rescue operation and informed the police and fire service. On receiving the information, the members of the fire service came to the spot and started the rescue operation with the local people.
Deputy Commissioner of Panchagarh. Zahurul Islam said that for the cremation and burial of the dead, each family is initially given 20,000 takas. Apart from this, one lakh rupees will be given to each family of the deceased. A five-member committee has been formed to investigate the accident. The committee has been asked to submit its report within the next three working days.