Awami League General Secretary Obaidul Quader has asked for this guarantee that BNP will be able to solve the crisis if the government resigns. Road Transport and Bridges Minister Obaidul Quader said this at a press conference in his office at the Secretariat on Sunday. Referring to energy, cost of living, and food crisis all over the world, Obaidul Quader said, 'Our opposition party is telling us to resign if we cannot provide electricity, gas, and oil properly.  In France, 20 percent of petrol stations have to close altogether. Are they demanding the resignation of the government? Protests about that? If people are suffering, there can be protests. We understand the suffering of people. We will tell the people what reality we have reached today. Quoting IMF-World Bank, Obaidul Quader said that something worse is waiting ahead. However, there is no fear that Bangladesh will soon be in danger with food. Still, the government is thinking ahead.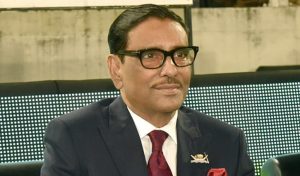 Obaidul Quader said that speed must be gained to overcome the current crisis, "for that, the government will have to resign, it is a matter of course." Is there any guarantee that you will be able to solve the global crisis if the government resigns? Can you guarantee this? According to the constitution, the next national parliament election will be held according to the rules. Awami League general secretary said that there are rules for the government to leave. Elections will be held in the country according to the constitution. If the Election Commission (EC) is impartial, the government will provide all possible support to them. The government has no business interfering here. He said, "We have not interfered before. The government will not interfere in the next general election either.
Obaidul Quader asked why there is a caretaker government, which country in the world has a caretaker government? The supervisory system has been removed from the constitution. Why can't BNP bring down the ghost of that supervisor?