Information and Broadcasting Minister Hasan Mahmud said BNP aims to create chaos in the country. With that purpose, they are trying to play movement and movement. Although it is not able to accumulate. Hasan Mahmud said this after a meeting with television media artists, directors, producers, and staff at the secretariat on Monday afternoon. Ministry Additional Secretary (Broadcast) Khadija Begum was present on the occasion. This information was informed in a press release of the Ministry of Information. At that time, Hashan Mahmud said, "The leaders of BNP tried to involve the people by saying that Khaleda Zia is ill and will die if she does not go abroad, but they could not." Now there is a global crisis in the wake of the Ukraine war and Corona. Bangladesh is not an island isolated from the world. In this context, they are now trying to mislead the people and create chaos in the country. We've dealt with more chaos than that. We faced what they (BNP) did in 2013, 2014, and 2015. Therefore, it is not a matter for us to deal with their chaos, threats, movement, and movement.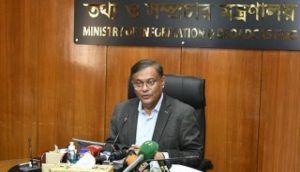 Earlier, the information minister held a meeting with television representatives. Actors, theater directors, and producers Shampa Reza, Aruna Biswas, Shams Sumon, Sajjad Hossain Dodul, SM Kamruzzaman Sagar, Nazneen Hasan Chumki, Sumon Shams, Prasun Biswas, Amr Shaikh, and others were present at this time. In the context of the detailed discussion with them, Hashan Mahmud said, "After Prime Minister Sheikh Hasina gave me the responsibility, I am trying with utmost dedication to developing the actors and the television industry of the country." There have been several discussions in the ministry about whether television awards can be introduced at the national level like the National Film Awards. The Information Minister said, "Earlier, the television channels did not have any serials on the cable network. I was able to bring the order there. Attempts to show Bangladesh television in India began 30 years ago today. But it did not see the face of success even in three decades. Bangladesh Television is being shown all over India through DTH technology since September 2019 after the Prime Minister gave the charge. That is a milestone.'
At this time, Hashan Mahmud also said that BTV's Chittagong television center can now be seen all over the country. BTV can be watched worldwide via satellite and apps. Chittagong Television Center has a weekly quota for stage plays, poetry readings, and selected poetry recitations, which were never done before.