Road Transport and Bridges Minister and Awami League General Secretary Obaidul Quader said that history will not forgive those who killed Sheikh Russell and those involved in the August 15 murder.
He said this to reporters after paying his respects at the grave of Shaheed Sheikh Russell, the youngest son of Father of the Nation Bangabandhu Sheikh Mujibur Rahman, at Banani Cemetery in the capital on Tuesday morning. Obaidul Quader said this killing is unforgivable. BNP is carrying the legacy of those who gave indemnity. The governance of Bangladesh and the country is not safe in the hands of the BNP.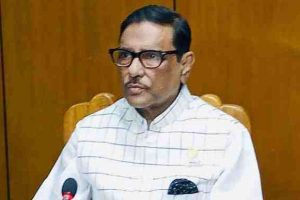 In response to a question from journalists, the general secretary of Awami League said that BNP is poison for the country's politics. BNP is a big obstacle to the country's security, the establishment of democracy, and rule of law. Earlier, Awami League and allied organizations paid tribute to Sheikh Russell on his 59th birthday by laying flowers on his grave. Awami League general secretary Obaidul Quader along with central leaders of the party paid tribute by offering flowers at Banani cemetery in the capital. At this time, Awami League also paid tribute to the memory of all the martyrs who died on August 15. After paying tribute, the leaders observed silence for a while and recited Fatiha. Later Awami Jubo League, Volunteer League, Chhatra League, Krishak League, Sramik League and Mahila Awami League, other affiliated organizations also paid their respects at his grave. According to a decision of the cabinet department, the birthday of Sheikh Russell, the youngest son of Father of the Nation Bangabandhu Sheikh Mujibur Rahman, is being celebrated as 'Sheikh Russell Day'. The main theme of this year's Sheikh Russell National Day is, 'Sheikh Russell is a symbol of serenity, fierce and lively and fearless.' Sheikh Russell, the younger brother of Prime Minister Sheikh Hasina, was born on this day in 1964 at the historic Bangabandhu Bhavan in Dhanmondi. On August 15, 1975, even the child Sheikh Russell did not escape from the ruthless bullets of the hateful killers, the enemies of humanity. He was a fourth-grade student at the University Laboratory School.